THE SNOW QUEEN
Now for the first time on ice with top national and international stars performing H.C. Andersen's story The Snow Queen!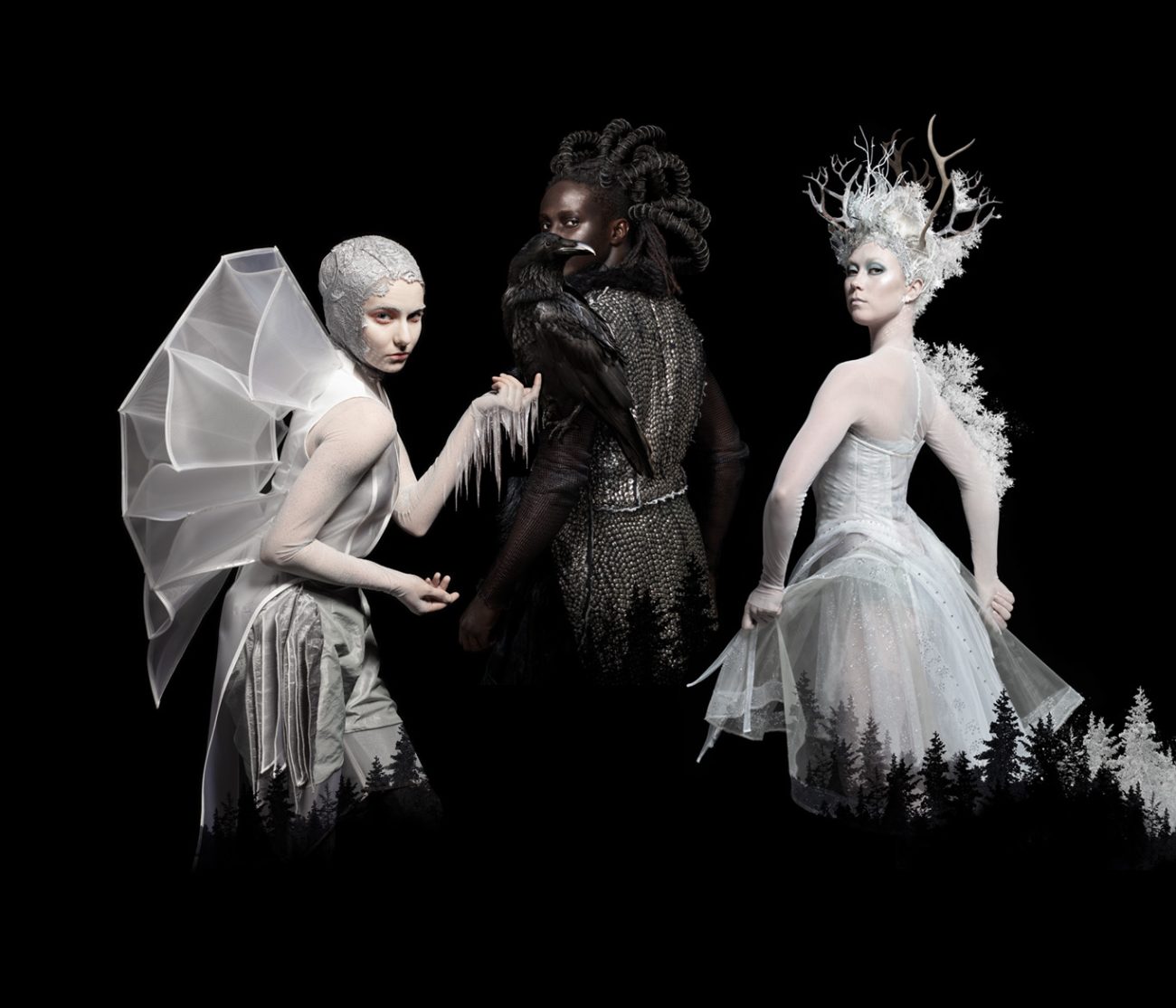 Performances and tickets
The Snow Queen ice ballet was postponed by a year due to tightened COVID-19 restrictions in Finland. Already bought tickets are valid and can be used as they are on the new dates. Read more.
Performances at Nokia Arena, Tampere
Friday 30 December 2022 at 7 pm (premiere, Finnish narration)
Saturday 31 December 2022 at 2 pm (Swedish narration)
Saturday 31 December 2022 at 7 pm (Finnish narration)
Sunday 1 January 2023 at 2 pm (Finnish narration)
Sunday 1 January 2023 at 7 pm (Finnish narration)
The performance is approximately two hours long and includes one intermission. The performance is recommended for ages 6 and up.
Tickets
Category 1 from 79€/adults, 59€ children (under 12) (inc. service fees)
Category 2 from 69€/adults, 49€ children (under 12) (inc. service fees)
Category 3 from 49€/adults, 39€ children (under 12) (inc. service fees)
VIP ticket from 175€/adults, 125€ children (under 12) (inc. service fees)
PREMIUM ticket from 220 €/ticket (inc. service fees)
Group customer, ask our experts for an offer!
tel. +358 3 243 4501 | ryhmamyynti@tampere-talo.fi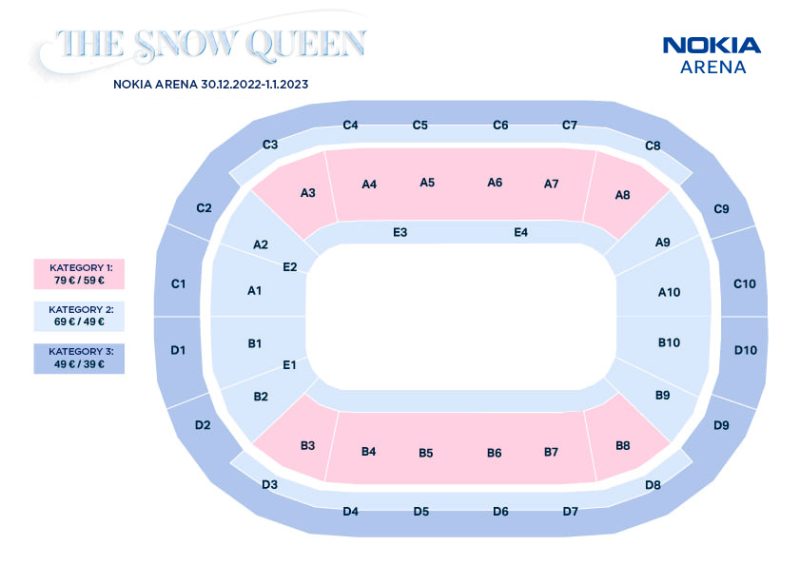 About
The Snow Queen ice ballet is based on Danish Hans Christian Andersen's (1805–1875) classic fairytale by the same name, and the new production brings together figure skaters, synchronized skaters, dancers, hockey players and professionals from many other performing arts in a never-before-seen way. This Finnish ice ballet is a globally noteworthy premiere.
A tale about the everlasting power of friendship, the story of The Snow Queen draws on a distinctly Finnish mysticism to tell the story of Kai, a young boy enchanted by the mysterious powers of the Snow Queen. Faced with the capture of her dearest friend, Gerda sets out on a journey in which the greatest obstacle is finally revealed to be within.
With its unique format of combining the worlds of live skating and dance, The Snow Queen features performances by top athletes and artists in both disciplines. The most successful Finnish solo figure skater of all times, Laura Lepistö, will play the role of the Snow Queen. Other top Finnish and international stars will also be performing on the ice, including Silja Dos Reis, Felipe Montoya, Mila Kajas, Julien Dulière, Dmitry Semykin, Susanna Rahkamo and Petri Kokko, as well as the 15-time World Championship medal-winning team Marigold IceUnity. Among Finland's most famous ice hockey players are Niklas Hagman, Jenni Hiirikoski and Pekka Saravo.
The ice show will be produced by internationally renowned professionals in lighting design, direction, script and costume design. The scriptwriter and concept designer for the large-scale production is Canadian Melissa A. Thompson, known for her concepts for Cirque du Soleil productions, among others. The music for The Snow Queen was composed by Finland's most internationally successful film composer Tuomas Kantelinen. The show's visual artist and lighting designer is Mikki Kunttu, who has also gained international fame in Cirque de Soleil productions.
Reija Wäre, known for her outstanding musical and arena productions and successful ice choreographies, is responsible for the direction and choreography, Erika Turunen, Finland's internationally renowned costume designer, for the costume design, and Anu Oksanen, known for coaching Marigold IceUnity, for the ice choreography of the group scenes.
We reserve the right to changes.
Read more about the Snow Queen ice ballet.
Production by Tampere Hall & Kantelinen Company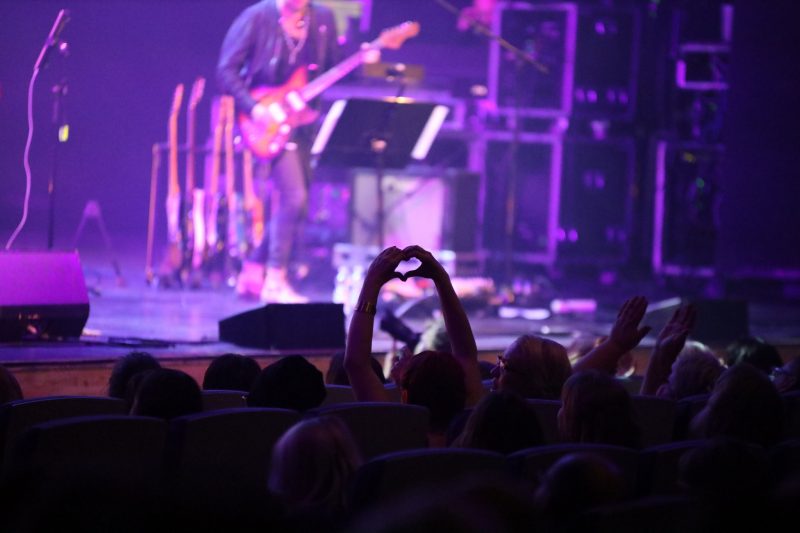 ASK FOR A GROUP OFFER
If your party includes 10 or more people you can ask for a group offer:
ryhmamyynti@tampere-talo.fi
tel. 03 243 4501 (Mon to Fri from 10 am to 4 pm)
upcoming EVENTS
TAMPERE BOOK FESTIVAL
Tampere book festival gathers the top authors of the year and other national stars to Tampere Hall in December.