THE MANHATTAN TRANSFER 50TH ANNIVERSARY TOUR 2022
The Manhattan Transfer concert at Tampere Hall is canceled
About
ANNOUNCEMENT 14.11.2022: The Manhattan Transfer concert at Tampere Hall is canceled
We regret to announce that the 50th anniversary concert of the band The Manhattan Transfer on the 14th of November 2022 at 7 pm at Tampere Hall is canceled due to several band members getting sick. The band sends this message:
"We were really looking forward to the concert in Tampere, because due to other tour cancellations, a lot of work was done to make it happen. We are really sorry and saddened that we are unable to perform due to falling ill."
Tampere Hall is negotiating the possibility of having The Manhattan Transfer to perform at Tampere Hall next year as part of the band's farewell tour. We will inform customers about tickets practices as soon as we know more.
RH Entertainment, the original event organizer of The Manhattan Transfer band's concert tour, was declared bankrupt on Friday the 11th of November 2022, and the band's tour in Finland was cancelled. Tampere Hall agreed on the separate organization of the concert in Tampere with the administrator of the bankruptcy estate.
Tickets 69/64,40/59,90 €
The Manhattan Transfer, dubbed the best vocal group in the world, will arrive in Finland in November 2022. The vocal group, whose music skilfully combines pop, blues and jazz, will perform at Tampere Hall on November 14th.
New York-based band The Manhattan Transfer released their debut album in 1971. The band has worked tirelessly and has since become hugely popular around the world. The group has sold millions of albums and has won ten Grammy Awards and numerous other accolades during their career, including being elected to the Vocal Group Hall of Fame in 1998.
Founding member Tim Hauser passed away in 2014, but The Manhattan Transfer has continued to thrive in his memory ever since. Hauser was replaced by Trist Curless, who joins Alan Paul, Janis Siegel and Cheryl Bentyne, who had been singing together for many years. The Manhattan Transfer were last seen in Finland in 2018, when their latest studio album The Junction was released.
Subject to chance.
Concert duration 90-120 min, no intermission.
Production RH-Entertainment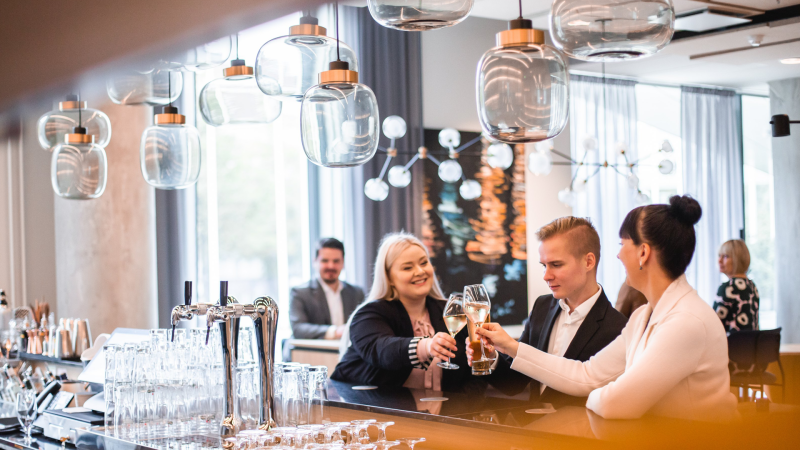 Complement your experience by staying under the same roof
The Courtyard Tampere City hotel, attached to Tampere Hall, offers the perfect experience. When you book accommodation for your visit through us, you get partner rates. The price includes breakfast and wifi. Welcome to enjoy yourself!
Photo: Laura Vanzo, Visit Tampere
upcoming EVENTS
TAMPERE BOOK FESTIVAL
Tampere book festival gathers the top authors of the year and other national stars to Tampere Hall in December.