Arrival
Tampere Hall is easy to reach. Perfect location in the centre of Tampere, just 500 metres from the bus station and railway station.
Location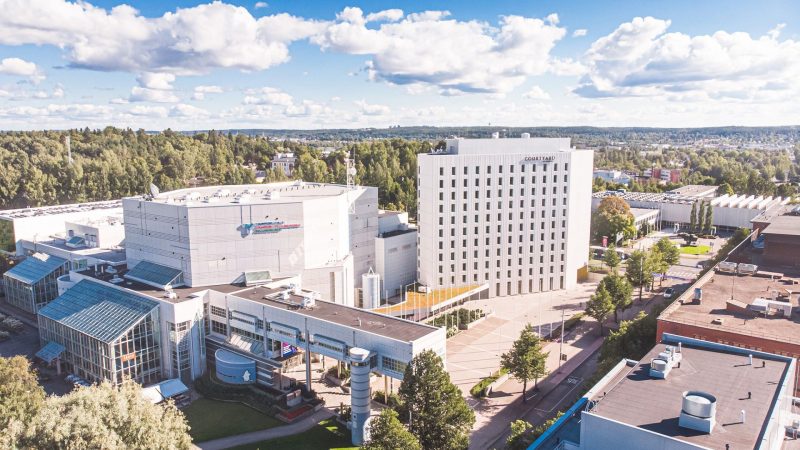 Tampere Hall is easy to reach. It has a perfect location in the centre of Tampere, just 500 metres from the bus station and railway station.
Our street address is Yliopistonkatu 55, FI-33100 Tampere.

Our shipping address is Viinikankatu 2, FI-33100 Tampere.
Delivery and artist entrance is Viinikankatu 2.
Here are directions:
Kalevantie – Kanslerinrinne – Ratapihankatu – Viinikankatu 2.
By car
As the parking spaces in Tampere Hall's outdoor car park are limited, we recommend using the park halls close to Tampere Hall: P-Tampere-talo, P-Tulli and P-Hämppi.
Updated methods for parking: No more cash or tickets.
Park hall P-Tampere-Hall has recently updated their payment methods for parking. From now on, parking is automatically registered via licence plate. All you have to do is drive in, the Moovy app (download free for your smartphone from App Store / Google Play) charges your credit card the amount of your parking fee. You can also pay for your parking with credit / debit card inside the park hall. The service provides e-mail receipts.
We have one bus stop (30 min), one taxi stand, 2 disabled parking slots and one electric car charging station available in the small front yard next to the main entrance.
By train
Tampere is easily accessible by train from anywhere in Finland. The railwaystation is 500 metres from Tampere Hall, so you can easily walk through the sign-guided route. Timetables and ticket prices can be found on the VR website at www.vr.fi.
By bus
Tampere is easy to reach by long-distance bus. Buses to Tampere run from various ports, Helsinki International Airport and the biggest cities at approximately one-hour intervals. Tampere bus station is only 500 metres away.
Local buses stop right outside Tampere Hall. In summer a local bus 100 operates between the Moomin Museum and the Särkänniemi amusement park, stopping outside Tampere Hall.
Timetables:
Tampere public transport
Long-distance buses Matkahuolto and Expressbus
By tram
You can also travel to Tampere Hall conveniently by tram. The stops closest to Tampere Hall are Tulli and Sammonaukio. Check routes and schedules.
By taxi
Taxis stop right by the main entrance and also cater for disabled customers. For more information and to book a taxi, visit Taksitampere
By airplane
Tampere is also accessible by plane. It is located in Southern Finland, 175 kilometres north from Helsinki. There are excellent flight connections to Finland from all parts of the world and a growing number of routes to Tampere. The Tampere-Pirkkala airport is located 20 minutes from Tampere city centre. For information on airports and their services, please visit the Finavia website.
Deliveries and arrival of performers
Tampere Hall's service traffic and deliveries, as well as the passage of performers, is from the Viinikankatu exit. The address is Viinikankatu 2, 33100 Tampere
Route: Kalevantie – Kanslerinrinne – Ratapihankatu – Viinikankatu 2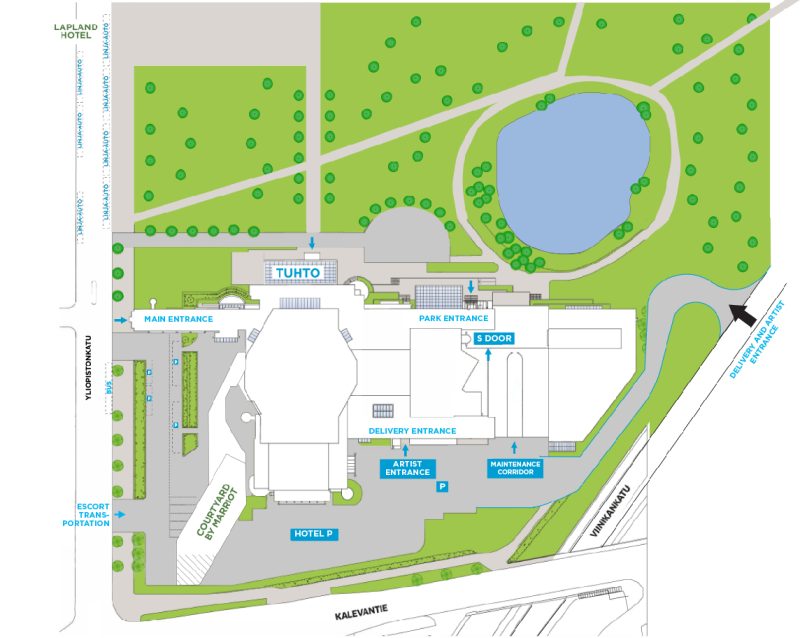 Parking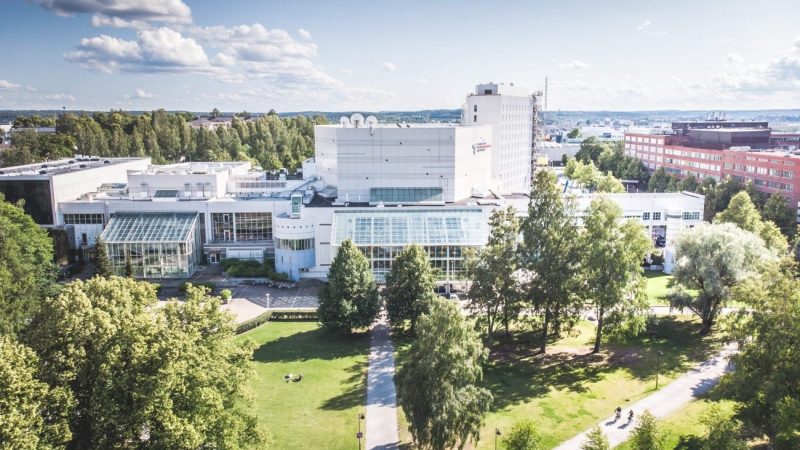 Parking in the Tampere hall's parking lot
There are a few paid parking spaces in the backyard of the Tampere Hall
Read more (only in Finnish)
P-Tampere-talo
Drive in from Åkerlundinkatu, drive out to Varastokatu.

The P-Tampere building has moved into the digital age, and cardboard paper tickets and cash payments have become history. When you drive in, the parking system recognizes your registration number and you no longer need a separate parking ticket.
Payment is made either with the Moovy application (downloadable for free from your phone's application store) or at a payment point with a bank or credit card. You can order the receipt to your e-mail.
P-Sairaa­lankatu
The Tampere building's additional parking area is the Sairaalankatu outdoor parking area on the other side of Kalevantie, which has approximately 300 parking spaces. There is a charge for parking in the area.
In the Sairaalankatu parking lot, you can park for a maximum of 4 hours. If your business in Tampere-talo takes more than 4 hours, we recommend parking in the parking garages.
P-Tullintori
Drive in from Itsenäisyydenkatu, Pinninkatu or Åkerlundinkatu, exit to Åkerlundinkatu or Pinninkatu.
Read more (only in Finnish)
P-Hämppi
Entrances and exits Tullinramppi at Pakkahuoneanukio (Ratapihankatu 39 C) and Ronganramppi (Pellavatehtaankatu 6 A)
Read more (only in Finnish)
P-Yliopis­ton­rinne Technopolis
Entrance/exit Ratapihankatu 51
Read more (only in Finnish)
Parking and escort service in the yard
There is a small escort area in the yard of the Tampere building: one bus bay (drop-off bay), one taxi bay, 2 disabled bays and a car charging bay.
The Marriott hotel has its own parking spaces for hotel guests. The area is shown on the attached map.
In addition, there are a total of nine 30-minute bus stops along Yliopistonkatu.