Park Hall
The Park Hall is the most versatile of Tampere Hall's premises. From gala dinners to club gigs, from seminars to trade shows, everything is possible here!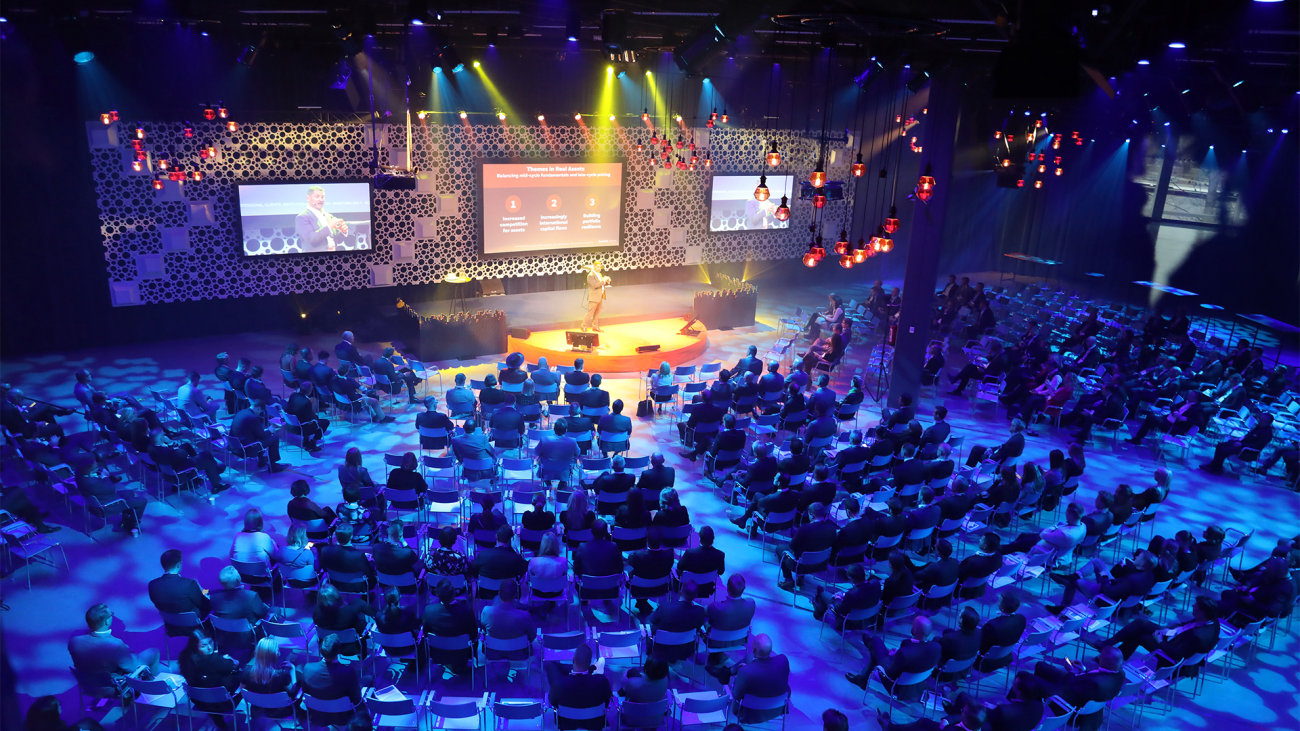 Park Hall is a real multi-purpose space for events! The Park Hall hosts gala dinners, parties, fairs, exhibitions, club gigs, children's events, launch events, meetings, competitions and various group caterings.
The rows of chairs can hold 700 seats, so also a larger seminar suits well here. Furnished with long dinner tables, the higher section of the space can accommodate 550 people, and when expanded to the low section, seats for up to 650 people are available! A cocktail party, club gig or other standing event can be held by up to 1,000 people.
The walls of the hall are covered by a dark blue, festive velvet curtain, which can be illuminated in the colors according to the theme of the event or the brand colors of the organizer. The lighting is complemented by moving lights, pattern lights and chandeliers. At the narrow end of the hall is a large stage, which can also be moved or dismantled if necessary.
The space has a large lift door, so transporting large exhibition and other structures or even driving in and launching a large vehicle is easy!
More pictures of different implementations in our image bank!
Park Hall can be used for many purposes. For our training event for about 500 people it was just perfect. Working with Tampere Hall was seamless: wishes were met, and the whole was easy to put together. The lunch and coffee services were praised.

Customer, April 2023
stage 6 x 8 meters at the narrow end of the hall
SPEAKER WITH DIGITAL FRONT PANEL FOR CUSTOMER'S OWN MATERIAL, EX. LOGO OR EVENT´s visual identity
FIXED MICROPHONE IN SPEAKER
COMPUTER WITH wirED INTERNET CONNECTION
SLIDE CHANGER / LASER Pointer
chair panel TABLE FOR 2-4 PEOPLE, FIXED MICROPHONES
2 X FULL HD DATA PROJECTOR AND 2 X WHITE SCREEN, BOTH showing the same VIEW.
theater style or Class room shape, other forms of furnising possible
freE WIRELESS NETWORK AVAILABLE IN ALL PREMISES OF TAMPERE HALL EXCEPT THE main AUDITORIUM
there are excellent technical capabilities for even spectacular implementations, ask your contact person for more information